Gone are the days of having to store highly flammable petrol on-site with this battery-operated Collar Cutter!
For many sites it may be required here and there, but undoubtedly something that is better avoided whenever possible.
This is something the Dynamics R&D team has custom-built for the industry, and we decided to start with the Milwaukee because it's arguably the best power tool on the market.


KCGM Testimonial
"Light weight construction, shaft can be separated into two halves for easy storage and transport, considerably quieter, simple to use, less vibration, safer as no more trigger locking on (chainsaw massacre style), no heat or fumes from the exhaust, no more storage of flammable material at site or on the back of the work vehicle, minimal servicing required.
I had one technician use the collar cutter for the first time in her career, and notably the cut was perfect once finished (how many attempts does it usually take before you master a perfect cut?).
As long as the operator lets the blade do the work, is more patient and doesn't completely send the blade all the way through the PVC into the soil/overburden, it does perform very well. I personally cut 3 of the 6 and had a nice controlled perfect cut each time.
Battery life doesn't concern me."
Jamie McPolin, Field Coordinator, KCGM
Note: Since Jamie trialed the market very first prototype unit in July 2020, the shaft has been substantially upgraded. Using the 18V/12Ah, clients are achieving 15-20 collars on a fully charged battery.
Roy Hill Testimonial
"I am pleased to let you know we are happy with the performance of the Milwaukee collar cutter, it seems to be a good alternative to the petrol-powered tool."
James Douglas
Coordinator Technician Ore Definition |Roy Hill
Milwaukee 18V Battery Collar Cutter Kit Contains:
1 x Milwaukee 18V/6Ah Battery
1 x Milwaukee18V/12Ah Battery & 18V Charger Starter Kit
1 x 100mm Discoverer Diamond Cutting Blade
1 x Milwaukee 18v Collar Cutter Skin

Features:
Variable Speed Trigger - Instantaneous throttle response
2-Speed Control: Low extends run-time when full power is not needed; High maximises power for demanding cutting.
Brushless Motor sustains power under load without bogging down.
Specifications:
Voltage: 18V
No load speed:

Speed 1: 0 - 6860rpm
Speed 2: 0 - 8680rpm

Dimensions (L x W x H): 1800mm x 166mm x 118mm
Weight: 3.5kg


Milwaukee 18V Li-ion Cordless RED LITHIUM High Output Battery
Features:
REDLINK Intelligence provides optimised performance and overload protection using total system communication between tool, battery, and charger.
Fuel gauge onboard displays remaining run-time.
Best-in-class construction offers long-lasting performance and the best protection against site conditions.
6.0Ah specifications:
Voltage: 18V
Amp hour: 6.0Ah
Charge time: 75mins
Dimensions (L x W x H): 105mm x 95mm x 154mm
Weight: 1.28kg
12.0Ah specifications:
Voltage: 18V
Amp hour: 12.0Ah
Charge time: 130 mins
Dimensions (L x W x H): 170mm x 110mm x 105mm
Weight: 1.6kg
Milwaukee 18V Multi Voltage Rapid Battery Charger
Featues:
Charges all Milwaukee batteries up to 40% faster
Sequential charging
REDLINK intelligence communicates directly with the battery.
REDLINK monitors cell voltage and temperature.
REDLINK charges to optimise the performance, protect and extend the life of the battery.
Specifications:
Voltage: 18V
Battery type: Li-ion
Charge Time:

6Ah: 75 minutes
12Ah: 130 minutes

Weight: 0.77kg
Milwaukee M12-18AC 12V - 18V Li-ion Automotive Car Battery Charger (optional)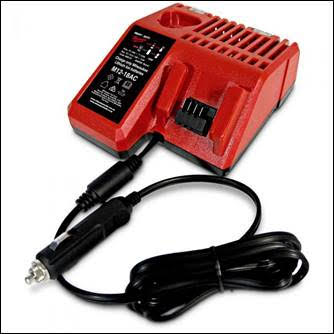 (Rapid Charge Station M12-18FC)
Features:
Charges Milwaukee® batteries on the go using conventional 12V sockets

Recharges all M18™ and M12™ REDLITHIUM-ION™ battery packs
Specifications:
Voltage: 12V, 18V

Battery type: Li-ion

Charge Time:

6.0Ah: 120 minutes

12Ah: 240 minutes

Weight: 0.83kg
Milwaukee 18v Collar Cutter Skin
Product Code: BOCCSKIN
Milwaukee18V Battery Collar Cutter Includes: 1 x 100mm Discoverer Diamond Cutting Blade
Milwaukee 18v Collar Cutter - Skin Only
Electric Collar Cutter Storage Bag