The specialty ProFab bags are made of high stitch count calico, equipped with a naturally polished drawstring. They are printed with a water resistant sequential number on the front, in your specified Alpha / Numeric configuration. Then we supply the barcode tag which is weather, heat, tear and water resistant which can be printed in any barcode format to suit your specific system. This is either stapled or sown into the bag seam, and corresponds with the printed number on the front.
Barcode Specifications - We customise to suit you!
Typically our customers find that a standard 75mmHx80mmW Barcode Ticket works for them. However any reasonable size barcode can be produced, just specify what suits your needs.
If your requirement is time critical we can staple the barcodes to the seam of the bag, with Heavy Duty Stainless Steel staples. Or if you are able to plan your programs we are able to sew the barcodes into the seam of the bag in our overseas manufacturing plant and pack them into our containers of stock. Leadtimes can typically be 4-6 months dependent on time of year, but if you'd like to have bulk stock produced in this way for your forward

planned

programs this is possible. For example, customers have ordered the upcoming years requirements in July or August and taken delivery in January so they don't have to worry for the upcoming years requirements.
If you prefer to clearly see your printed numbers the standard print size we offer is a large 45mm High Print.
Designed and manufactured in consultation with experts in the field as a premium product for use in the harsh Australian outback. Dynamics ProFab bags are fine woven, suitable for retaining fine samples in RC drilling or larger samples when diamond drilling. They have double stitched seams and come with a tough drawstring.
Please specify your Alpha/Numerical print at time of order. If you have the requirement to print random numbers, miss a number, or add a specific letter anywhere in your number sequence this is also possible. Some current mine requirements are that we don't print any bags ending in 00, 11, 29 & 47, and they insert a 'standard' into a blank calico for QC purposes at the lab.
All we need from you is an excel spreadsheet with these 'unique' requests and we'll print it exactly, no extra leadtime or cost to you!
Most thing are actually possible, so just tell us what you would like and let's see what we can do together!


Case Study 1
Customer Scope: To provide a sequentially printed calico bag, with a corresponding ticket stapled into the seam and a 'cheque book' style ticket book with all the specific sample details left inside the book for record keeping.
Deliverable: Achieved entire scope, and every 50 leaf ticket book inserted into the box between every 50 bags for ease of use in the field.
Case Study Image: Calico Bags with 50 Leaf Ticket Book and corresponding numbers printed on the bags with tear off ticket stapled to seam.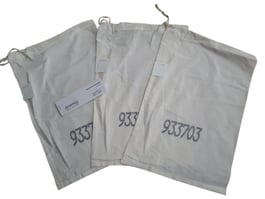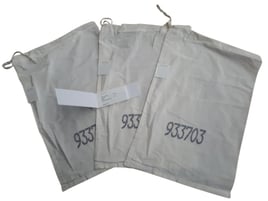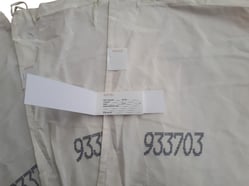 Testimonial - South 32 Mining
"Good morning Sean,
I would like to thank you and your team for its continual support your company has provided us. Since converting to the New Calico Bags we have not had any issues. The bags are holding up to the conditions we encounter here in the tropics, and also finding them durable during transport to the lab. The barcode system and ticketing system we have developed over time, suit our operation requirements. The lab have also reported success with the quality of the new bags. The tickets, barcode and bag printing have all standing up to this seasons drilling program."
- Exploration Supervisor


Tag Examples