The Brunton Pocket Transit was first patented in 1894 by David Brunton (a geologist) and continues to be an industry leading compass and measuring tool used by geologists, foresters, surveyors and archaeologists. We supply the 3 main compasses that Brunton manufacture, the Geo Pocket, Com-Pro & the newest addition to the range the potentially revolutionary Axis Compass.

Let's start with the two traditional compasses.

Brunton 5010 Geo Pocket Transit International Waterproof Compass (Azimuth 0-360)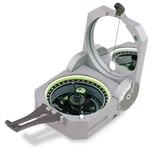 The Geo Pocket Transit Compass, incorporates feedback from professionals to make this the ultimate compass. The solid aluminum, waterproof Geo Transit contains a fast, magnetic north seeking, rare-earth magnet, balanced on a sapphire jewel bearing for quick measurements. The most noticeable feature is the hinge inclinometer, accurate to +/- 2°. This feature allows simultaneous dip and dip direction measurements, reducing the number of measurements required in the field. An innovative needle design can be locked or unlocked.

Brunton 5008 Com-Pro International Pocket Transit Compass (Azimuth 0-360)


With a body made of composite materials, this Transit Compass is a lighter, more affordable alternative to 5010. Like the 5010 it also incorporates a cast NdFeB rare-earth magnet, precisely balanced on a sapphire bearing, resulting in a powerful magnet, which quickly seeks magnetic north and permits fast readings.

Identical Features of 5008 & 5010
Single NdFeB magnet resists demagnetization better than any other type of magnet
Vertical angle measurements to +/- 90° or 100% grade
Percent grade scale with increments of 5%
Induction dampened needle for quick, accurate readings
Sapphire jewel bearing allows for smooth needle movement
Magnetic declination adjustment allows for east or west declination settings to +/- 180°
Precision aligned mirror with convenient see-through sighting capability
Short and long sights for increased accuracy when sighting azimuth or vertical angles
O-rings make the GEO Waterproof for increased reliability
Leather case included
Unique 5010 Features
Azimuth accuracy +/- 1/2° with 1° graduations
Vertical angle accuracy +/- 1/2° with 1° graduations and 10 minute vernier
Aluminum billet body assembly makes the GEO nearly indestructible
Adjustable needle locking mechanism
Hinge clinometer with 1° increments for 1/2° readable dip measurements
Two long-level bubbles on the outside of the aluminum housing for no guess leveling from the sides or the bottom
Overall dimensions: 96x71x33mm
Weight: 362g
Unique 5008 Features
Composite body material has less thermal retention
Overall dimensions: 81x71x33mm
Weight: 161g
Now for the newest Brunton compass on the market.
Brunton 5012 Axis Pocket Transit Compass (Azimuth 0-360)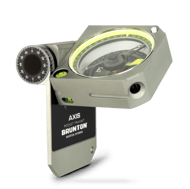 The Axis was invented by geologists for geologists and features a significant new TWIST on the pocket transit that is designed especially for easier geological measurements with every angle and every direction.

This compass get's pre-balanced to the different zones around the world, to make it easy we've provided a downloadable 'Balance Zone' List for you to select the right zone for your use. Download Here. Generally we stock at all times the Axis Balanced for Australia (095), but can supply any zone compass you wish.
This is the link to the Zone List:
We also have the Easy to follow instruction manual available for download here.
This is the link to the Instruction Manual:

5012 Features


A significant new twist on the pocket transit that is designed especially for easier geological measurements.
Innovative dual-axis hollow hinge allows for intuitive, efficient and accurate measurements of planes, lines, bearings and vertical angles.
Only one measuremet configuration is needed for strike & dip, trend & plunge, bearing & vertical angle, increasing efficiency and accuracy. Compass North is parallel to the main hinge axis, making the Axis the only transit able to measure strike and dip concurrently, through contact or sighting methods,
Novel lid protractor and rotation around minor axis enable accurate, simultaneous measurement of trend & plunge and any surface, including overhangs.
Inclinometer Accuracy: ± ½ with 1° graduations
Dip Angle Accuracy: ± ½ with 2° graduations
Dimension (closed): 100mmx 71mm x 30mm
Weight 354g
Comparison Chart of Brunton Models