NEED IT NOW? WE STOCK KT-10'S FOR IMMEDIATE DISPATCH!


KT-10 v2 Magnetic Susceptibility/Conductivity Meter - The Original Tool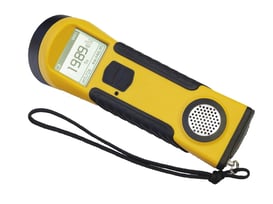 The KT-10 v2 (click for full specs) is the most popular model of magnetic susceptibility meters in our range.
It incorporates a range of new technologies including Bluetooth Wireless Communication to store Magnetic Susceptibility Readings integrated with GPS coordinates, more Accurate Scanning and GeoView Visualization Software.
The units allow users to input depth correlation information, receive measurement results in either SI or CGS Units, and feature large internal memories.
Additional benefits such as high sensitivity and a data management/visualisation software for the PC are standard in both configurations.
The standard KT-10 v2 can also be upgraded to either a KT-10 Plus, KT-10 S/C or KT-10 Plus S/C.
In simple terms the 'S/C' means the unit is capable of both Magnetic Susceptibility and Conductivity measurements.
The 'Plus' means the unit has extended Susceptibility from 0.001 x 10¯³ - 1999.99 x 10¯³ SI up to 0.001 x 10¯³ - 9999.99 x 10¯³ SI, and gives the user the % Iron Ore Concentration Estimates for Magnetite.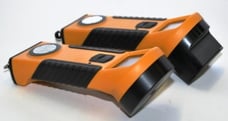 Note: As standard, we stock the Circular Reading Face (Coil) but are able to order in the Rectangle Reading Face (Coil) if preferred. Image on the left shows the Rectangle and Circular Reading Faces (coils).
KT‐20 Magnetic Susceptibility/Conductivity/IP‐Resistivity Meter - The latest innovation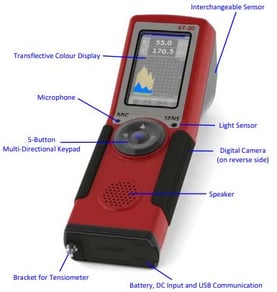 The KT‐20 is a handheld instrument capable of measuring the magnetic susceptibility, conductivity, chargeability, resistivity and density of a sample.
Its modular design provides users the ability to employ different sensors of optimal frequencies for either magnetic susceptibility or conductivity measurements.
The unit can be supplied with curved sensors in addition to the standard circular and rectangular designs, and they can easily be interchanged allowing the KT‐20 to measure smaller or larger sized samples or cores.
The KT‐20 also has an IP/resistivity sensor to measure the chargeability and resistivity of a sample.
Additionally, density measurements are available as an option, providing more information about the sample.
A picture, audio note, text note and GPS coordinates can be added to the measurements to increase the amount of information one can attach to each record.
To see the full KT-20 specifications, click here.

Dynamics G-Ex also offers full repair and maintenance on the complete KT-10 & KT-20 range and upgrades to higher models.


FAQs about the KT-10 & the KT-20
Q1. How often should I calibrate my Magnetic Susceptibility/Conductivity Meter?
A2. All units are factory calibrated before shipping to you. This means that as long as the meter does not suffer from serious physical damage (i.e. the measuring coil gets broken), periodic calibration should not be required.
If you are in doubt about your unit's accuracy, you can easily calibrate it for magnetic susceptibility measurements yourself.
Option 1 - Purchase a set of magnetic susceptibility calibration pads for ultimate peace of mind.
Option 2 - Use a rock with a flat surface and thickness of at least 2 inches, which is homogeneous in its magnetic susceptibility. Draw a circle on the rock to make sure you always take the measurement at the same location, same angle and ideally same temperature (if possible).
Q2. What's the main difference between the KT-10 and KT-20?
A2. The KT-10 is a handheld magnetic susceptibility and conductivity meter, which can be used to solely measure magnetic susceptibility or conductivity, or to measure both simultaneously. The KT-10 has a 10 kHz operating frequency and comes with a fixed sensor available in either a circular or rectangular design.

The KT-20 is a modular physical property measuring system with interchangeable sensors, which can be used to solely measure magnetic susceptibility or conductivity, to measure both simultaneously, and to measure IP/resistivity and density. A variety of interchangeable sensors are available in different shapes


Click here for more FAQs.