For too long the industry has not been able to source a tested, proven and user-friendly solution to making the tedious but highly important job of taking core photographs simple and consistent – now that's changed!
So, what's all the Hype?


It's Modular

After shipping 'Pre-Built' core photography frames all over Australia, inevitably they didn't survive the journey therefore modular made a lot of sense.
The Core Tray Photography Camera Station package is a fraction of the size and still remains in mint condition however remote or whatever country we have to ship to.


It's Consistent

Anyone of your team might be able to click a button on a camera but it's the result that counts, right? This system will mean, whether it be your most junior team member, or the experienced members, we can GUARANTEE no distinction between the photos no matter who the user is.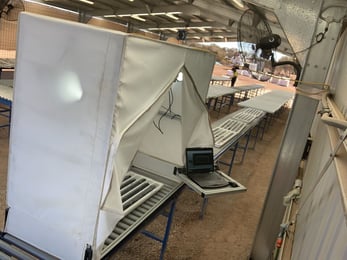 Any Tray or Box anywhere

Plastic Core Trays, Cardboard Core Boxes, Wooden Core Boxes, Africa, Aussie, North America, South America, Asia, North Pole – you name it, it'll handle it.


Benefits & Accessories

Firstly the unit can be supplied with an optional Laptop Table that can be moved up and down, as well as able to swing around the side of the frame out of the way on its back-axle hinge.
The Quick Release Clamp for the camera that is adjustable up and down…you'll want your camera accessible quickly at any point of the day, replace a battery, complete a download, or bringing it inside every night.
The adjustable Positioning Bar is designed so you can butt your core tray up to it which will ensure that your tray sits in the same place every time, for the perfect picture.
Finally, the 'flap-doors' in and out of the unit perfectly shut out all the light you don't want, whilst allowing you to push your tray into and out of the frame with complete ease.




Note: For the avoidance of doubt, the roller racking in which this unit fits on isn't included in the price. Either we manufacture these to suit your existing racking, or supply a length of racking as additional.
Good to know

We've built this for operations with roller racking conveyors in their core shed. The unit will bolt onto the roller racking side channels becoming a very sturdy unit.


Extra's

We believe we've found the perfect light to create the most luminous, homogeneous glow over the core…but this didn't come without a lot of time and trialing many varieties. We highly recommend you use these lights as this will lead to the greatest consistency whether in direct sunlight or taking photos in the twilight hours. You shouldn't be able to detect the difference in your quality of image.


Test it in action?

This is an early 2019 creation so not everyone out there has got one yet…but for your peace of mind talk to us about the opportunity to come and try for yourself at our Innovation Hub in Perth. It's always best to ask our team before rocking up just to make sure we haven't rushed the latest model out the door for a eager customer!


What's my other options?

Before you go too much further you might want to consider your other options? Particularly if you are a smaller explorer and every dollar counts, then check out our Discoverer® Core Photography Camera Portable Frames. Down scale, and take your Camera Station from one tray to the next with this lightweight, but perfectly suited piece of equipment.
For more details on this unit contact the team today. Our Geological Product Specialists' are happy to talk you through this unit and even supply high resolution images for you to view before committing. There's nothing like seeing how your core photos are going to look before you start!
Looking for the perfect software to capture and catalog your images?
Check the Imago Software here.
Through all our testing we also managed to hone in on suggested perfect camera settings to achieve great results in core photography, regardless of external conditions.
You can read that free guide here: Best Camera Settings To Achieve Quality Images When Photographing Core
NOTE: The image of the core tray shown in the picture below is low resolution so as not to slow down the website, but the images you will take on site will be high resolution. This image is a wet core image, as that's what most of our customers struggle with and illustrates the ability of the core photography frame to take the perfect picture. This image hasn't been edited or cropped, it's exactly how the camera will take the image when mounted to the Discoverer® Core Photography Camera Frame.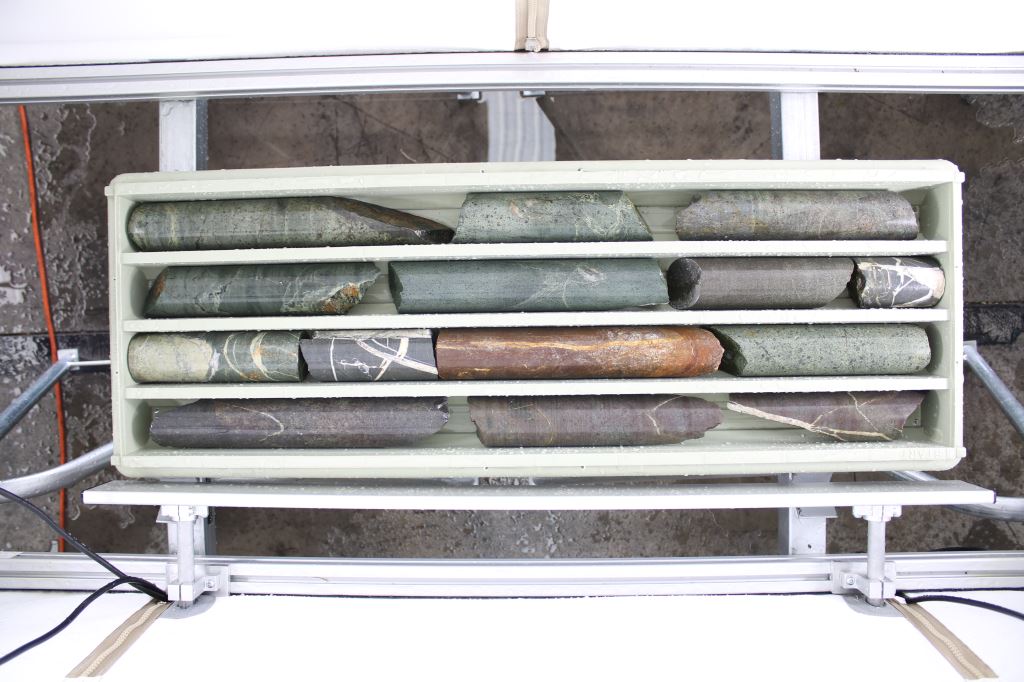 Auto Watering System For Discoverer® Fixed Core Photography Camera Station

The wheel of geology innovation keeps turning with the Auto Watering System to quickly and easily take Wet Core Photos!

This is a retrofit system for those already with the Fixed Camera Frame unit on site.