The patented Corewise Automatic Core Saw is the most technologically advanced core cutting machine. It is known to be the safest and most practical choice in the industry for all core cutting applications.
Invented by Frank Frisina, the original inventor of the Almonte Core Saw, Frank has continued to develop and advance the core saw under the Corewise brand. In an efficiency and safety driven market, there is no room for accidents, which is why we recommend you keep your core saw operators safe with the right core saw.
"I've been using the Corewise Core Saw for over 10 years and I've got nothing but praise
for it. Not only is it a very reliable piece of equipment, but it is also extremely safe to use.
I've found that I can cut large amounts of core in a relatively short space of time and it is
very simple to operate. I would have no problem recommending it to anyone."
- Perilya Mining
We typically supply the 3-phase core saw to the bulk of mine sites, but we do have the single phase core saw available as well.
The single phase core saw is designed for smaller exploration programs, where only smaller amounts of core need to be cut, but where operator safety is a priority and manual core saws aren't suitable to the end user.
The 3-phase core saw will typically cut 5-6 times faster than the single phase saw, as it's more powerful at 7.5kw to the single phase saw's 2.2kw.


Made with Safety in Mind

Designed and built in Australia, the Corewise is a premium galvanised and stainless steel construction, with all internal bolts made of stainless steel to increase machine lifespan. It has aluminum composite sheet panelling, which stops vibration and reduces noise levels, leading to less wear and tear on parts and increased operator comfort. Both in forward and reverse, the Corewise features an anti-jam system ensuring that core never jams, which can cause potential operator hazards. Fitted to the core saw is a proximity sensor which automatically cuts the power when body parts come within the blade area or when the blade housing is lifted. To compliment this feature, the saw is also fitted with dynamic braking, ensuring that the blade stops immediately, which makes the difference between absolutely safety and loss of limbs or fatal accidents.

5 Unique Benefits of the Corewise Automatic Core Saw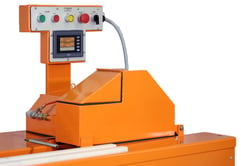 1. Controllable Feed Rate for Varying Rock Types
The first of its kind, the Corewise LCD screen (shown left) constantly monitors both motors while operating. This screen will advise the saw operator on correct feed speed for different hardness of core. The operator can now easily set feed rates from the LCD screen so access to control box is not required – safety that older machines just don't offer! The entire control panel is also fitted above the saw (as opposed to the side) to ensure all the control buttons are fitted away from wet areas and no risk of electrical shocks.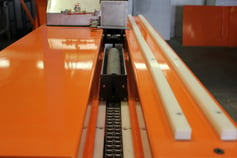 2. Core Cut at Double Speed, Increase Productivity
The saw is driven by a new chain feed system (shown left), different from the older style 'pusher' lugs, that allows operators to instantly feed core without having to wait for pushers. This increases productivity without compromising safety.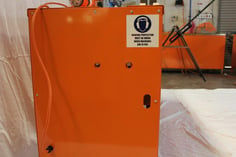 3. Total Ease of Maintenance
External grease points (shown left, holes in the middle of the machine) for easy access – no requirement to open up the saw to grease and maintain all internal parts like older models. This has proved that the operator will maintain the saw, and keep the regular greasing up to date as it's easy to accomplish, leading to less downtime and breakdown of parts, saving time and money.

4. Suitable for All Drill Core Sizes

The main feature to note in this machine is it's the only saw with a 110mm core feed channel in which the user places the core guide, verses the traditional machines that have a narrower 90mm gully. This means that a Broken PQ Core Guide will fit into the gully with ease and also ensures the core guides will never ride up during operation, like the feedback we received on the older 90mm gully machines.
5. Stable and Safe Operating Environment
With adjustable anti-vibration feet, the core will always be level no matter the operation ground surface. The Corewise has a current track record of having no LTI or LTA ever reported.
Package Inclusions:
All saws are supplied with a 12" (300mm) Blade, a V-Core Guides, and N2 and H Broken Core Guides. NOTE: Only 12" (300mm) Core Blades fit the Corewise or any other brand of Automatic Core Saws, so please be aware of this when re-ordering blades.
Optional Add-ons: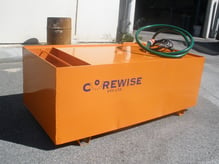 Recirculation Tank
Built in conjunction with the Corewise Automatic Core Saw, the 200L water recirculation tank is constructed from powder-coated aluminum with 3 stage setting tanks, 240v submersible pump with float switch, filter mesh basket, lid and hose with fittings. It is recommended for use where water supply is limited. Once installed and tank is filled with water, you plug one end of the hose to the pump and the other end to the connector piece on the blade hood and then start the pump. For optimum life of your blade it is recommended to have constant water supply. The Recirculation Tank meets environmental regulations.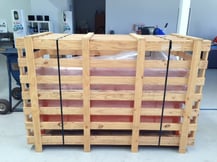 Safety in Shipping
When shipping and sending to remote or international locations, a crate is built specifically to protect the saw in transit. For export these are heat-treated and fumigated for customs purposes.
Technical Specifications:
Engine
The 3-phase Corewise is driven by a high efficiency 7.5kw (10hp) electric engine that gives it enough power for hard cores and to ensure longer blade life. The smaller single phase saw is driven by a 2.2kw electric engine.

Power Supply
The Corewise can be fitted with various hardware to ensure compatibility with most power supplies overseas. If using the saw remotely, a 20KVA generator will run the 3-phase saw, which comes with a 3m power lead and a 20 amp, 4 pin, 3-phase plug, so you will need to ensure the generator has a socket which will accept this size plug.
Spare Parts
A full range of spare parts are available ex-stock to minimize downtime and get you up and running as fast as possible.
Supply Availability
Dynamics G-Ex can ship the Corewise to any location within Australia, or through our export warehouses in Perth and Queensland. We have supplied to a number of countries worldwide, including New Zealand, PNG, Africa and the whole of the Oceania Pacific region. We strive to stock the Corewise for immediate dispatch at all times.
Warranty
The Corewise is backed by a 12-month warranty that covers the motor, gearbox and components. Blades and chains are not covered.
Still not sure if Corewise is right for you?
It might, or it might not be.
Check out our comparison on the leading brands of Automatic Core Saw here in Australia so you can make your own informed decision.


Note: These units can sometimes be referred to as Core Cutters or Auto Core Cutters in case you need help in finding the right product when searching!