The Discoverer® Manual Core Saw is an Australian-made machine with a long history of durability and reliability across many mine and exploration sites all around the world. When the budget doesn't permit choosing an Automatic Core Saw or the amount of core for cutting is not as extensive, the Manual Diamond Core Saw would be a fine addition to your core shed.

Comes in 3 Models:
The Series 1 and 2 Core Saw are identical machines apart from the Series 1 having detachable folding legs, perfect when portability is key. We've had clients take the Series 1 when trekking through remote jungle or bush land to reach their drill site. It's not light at 93kg, but the inbuilt handles on the sides of the saw help with the lift and can be achieved by two people.
The Series 2 is the same build size as the Series 1 with fixed solid legs, designed as more of a longer term saw for operating at a small exploration program.
The Series 3 is the 'beast' of this core saw range, only supplied with fixed solid legs and perfect for mine sites or larger exploration projects where more power is needed and extended periods of core cutting are to take place.

Engine Options:

Series 1 Core Saw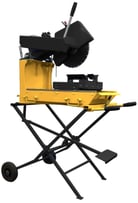 The Series 1 can be supplied with a single phase, 3-phase or petrol engine depending on your requirements. For this machine, the single phase is the most popular and the one we stock in Perth and Queensland for immediate dispatch for those needing a machine yesterday!

Series 2 Core Saw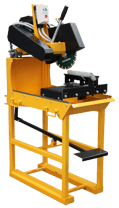 The Series 2 is typically supplied with a single phase engine too,
and is also stocked in Perth and Queensland. We rarely supply this
with a petrol or 3-phase engine, but it is possible and can be subject to
a longer lead time depending on current production.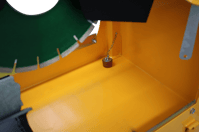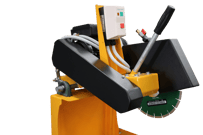 Series 3 Core Saw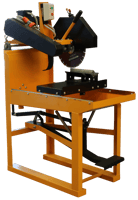 The Series 3 also can be supplied with a single phase, 3-phase or petrol engine depending on your requirements. As this is our largest machine in the range, the 3-phase is the way most people like to go. Being our bestseller from the entire range, we endeavor to always have this in stock in Perth and Queensland.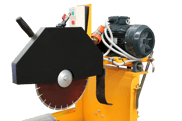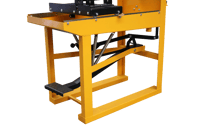 Series 2 vs. Series 3 vs. Operator Comparison
Note: Series 1, not shown, is the same overall size as Series 2 on the left, but comes with detachable legs that make it more portable.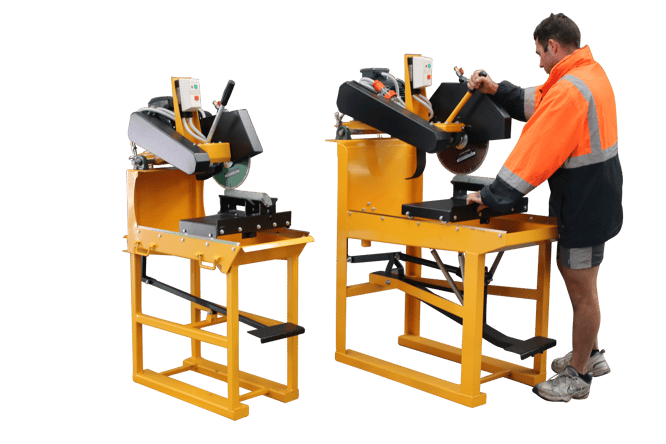 Core Saw Benefits:
Solid frame construction out of 3mm laser cut profile leading to increased stability of the whole machine
Cutting deck trolley with heavy-duty aluminum, tilt-lock wheels meaning accurate and stable cut
Proper water return channels mean a dry and clean area, improving users comfort
Fully protected blade support shaft leading to user safety and bearings protection
Spring-loaded cutting head actioned by foot pedal or cutting handle, resulting in better cutting quality leading to shock-free cutting, and good pressure control.
Crank controlled cutting depth adjustment and head locking device leading to accurate cutting depth adjustment and straight through cutting
Technical Specifications:Engine Options
Single phase 2.2kW 240V/15AMP
3-phase 3PH 5HP/4Kw
Petrol 5.5Hp Honda or 6Hp Robin
Power Supply
If working remotely and away from power supply, the recommended generator size for the 2.2kw single phase engine is 10 KVA and for the 4kw 3-phase engine is 20 KVA.
Series 1 & 2 Core Saws
Dimensions (without stand): 700H x 470W x 980Lmm (Series 1 Only)
With Portable Stand (S1) or Fixed Legs (S2): 1530H x 550W x 980Lmm
Blade Capacity: 300 - 350mm (12 - 14inch)
Max Cutting Depth: 110mm
Max Cutting Length: 420mm
Tool Speed RPM: 2800
Total Weight: 93Kg
Series 3 Core Saw
Dimensions 1540H x 570W x 1350Lmm
Blade Capacity: 350 - 500mm (14 - 20inch)
Max Cutting Depth: 210mm
Max Cutting Length: 490mm
Tool Speed RPM: 2200
Total Weight: 140Kg

Note: The thing about the Discoverer Core Saw is that it isn't an overseas mass produced brick saw, such as the renown brick saw brands like the Clipper Saw. The Discoverer is a purpose-built Diamond Core Cutting Saw, designed for continuous cutting for hours a day. Through proven experience, we reserve the right to refuse to sell you any other manual core saw, as the hours of engine failures and maintenance issues with brick saws have proven to us we'd rather not supply them. Please be aware the sole purpose of us noting this is to take away the headache from prospective geos & fieldies looking for a saw, and not to put in doubt the credibility of brick saw brands - if you were cutting bricks we'd recommend them as fit for purpose every time. We trust this helps with your decision making process.