These bags are manufactured from a High Wet-Strength Brown Kraft Paper or Geochem, designed to take wet or dry pulp samples in different climates. Wet-Strength as the name implies, enables the walls of the bags to retain samples when wet. They have a quick action wire tie closure clip that folds over and seals the bag when they are transferred to the ovens to dry out.
The main use of the Wet-Strength Brown Kraft Paper Bags is for drying out and storage of rock sample pulp from exploration or mining companies sending in their samples for assay results. The lab crushes the samples to a pulp and then uses the Geochem Pulp Bags to dry or send back to the company once the assay is completed. The bags also can be used for soil samples, milled RC Chips or seeds.
Laboratories all around the world prefer the Samplex® brand of Wet Strength Geochem Pulp Bags, we are recognised as the largest global supplier of this product and regularly ship the product to various laboratory locations globally. Laboratories use the Geochem bags for their pulp samples, so often are referred to as pulp sample paper bags.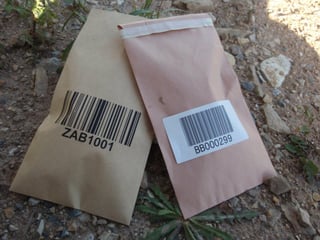 Dynamics also offer to supply and apply a Number & Barcode, Water Resistant sticker to front of these pulp bags for total ease of tracking through the laboratory.
This product can be supplied by the carton, pallet or in container loads. We regularly supply container loads with a mixed batch of goods internationally, so we are competent at packing and shipping.
NOTE: The Paper Bags can be referred to by the industry as Wet Strength Bags, Paper Bags, Pulp Bags, Geochem Bags, Wire Tie Paper Bags or as the brand most laboratories demand they are referred to as the Samplex® Wet Strength Geochem bags. Ask specifically for Samplex® brand!