The Suunto range of baseplate orienteering compasses are very popular and a great tool for any expert level geologist or fieldie. The two types we supply are the top sellers - the MC-2 and the M-3. Let's look at both types below.

Suunto MC-2 (COMP-122)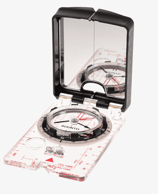 The Suunto MC-2 mirror compass has many features that make it outstanding in its class. A standard feature is the gear-operated declination adjustment system which makes this compass excellent, such as in areas with large magnetic variations.
Another standard feature is the pendulum clinometer that can be used for the measurement of different slopes, slope of terrain, height measurement, among others. The luminous bezel is available with azimuth (0-360) graduations with two-degree intervals. Parallax error can be eliminated by means of the clever arrangement of luminous points and color lines.
This compass is designed for use in all compass zones. The MC-2 is a professional mirror compass for taking bearings and normal direction with adjustable declination correction scale.

Specifications:
Global needle for worldwide use
Declination Adjustment
0-360 Compass Scale
Large sighting mirror - doubles as signaling mirror
Additional sighting hole for superior accuracy
Ergonomic, luminous bezel ring
Baseplate with magnifying lens
Numerous map scales printed on baseplate
Rubber feet on baseplate for ease of use with maps
Detachable lanyard with snap lock
Size: 65mm x 101mm x 18mm
Weight: 74g


Suunto M3 (COMP-M3)




The adventure compass. A reliable compass for navigating and surviving in extreme conditions. This hardy baseplate compass is ready for the challenge.

Specifications:
Fast globally balanced needle with jewel bearing
20 degrees tilt margin for easier readings
Adjustable declination correction
Liquid filled capsule for stable operation
Clinometer
Luminescent markings for working in low light
Metric and Imperial UTM scales
Baseplate with magnifying lens
Detachable snap-lock lanyard with wristlock - easy to detach for working with the map
Suunto limited lifetime warranty
Made in Finland
Size: 120 x 61 x 14 mm
Weight: 48g
Level Bubble (COMP-BUB)


We can also supply and glue a Compass Level Bubble for MC-2 or M3 as a retrofit part.