Let's take your mining and exploration practices to the future!
Did you know that Australia is targeting 70% of all plastic packaging to be recycled or composted by 2025?

The ANZPAC Plastics Pact, which formally launched in 2020, will work with businesses, governments and NGOs from across the plastics value chain to develop a common vision of the circular economy for plastics.

No time like today to start making changes in your supplies and processes to support this initiative.

The new Samplex® EnviroBag is 100% biodegradable and compostable! When buried, organisms in the
soil will quickly break them down into a pile of soil.

Essentially, it's the same heavy duty green bag we all know:

Tough, durable and burst resistant
Puncture resistant to sharp and abrasive core samples
Waterproof and retains moisture
Easy-to-read, large white write-on panel
The only difference is it's made from a natural product, so it's sustainable, eco-friendly and fulfills your corporate social responsibility. These bags are certified to AS 4736 standards which is your watertight guarantee that this bag will compost.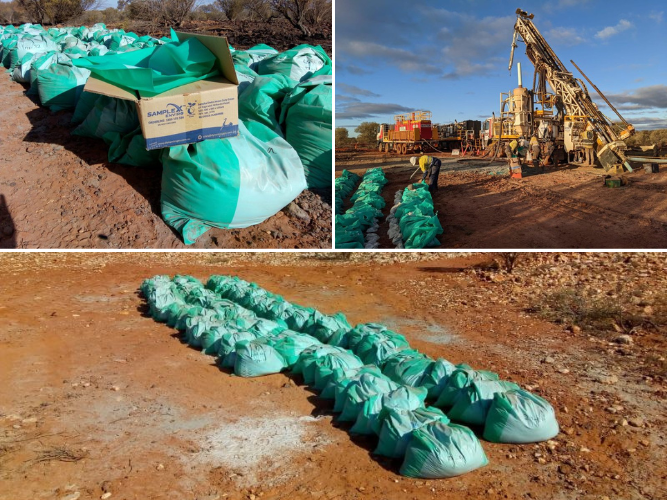 FAQs
1) What are the bags' compostability and composition?
The bags are a blend of starch and compostable bio-polymer, 100% microorganism- and fungi-certified compostable. The material will disappear in max. of 2 years.
2) Does the bag contain any plastics that microorganisms cannot digest, which could result in residue components?
No, all the compostable materials will be consumed.
3) Have you received any certification from composting standards?
Yes, the material used to make these bags is globally certified by all major bioplastics certification bodies in Australia, Europe, Japan, and USA.
4) What if cows ingest the bio bags? As some mining areas are close to pastures.
The bag's material is fully certified for food packaging, so it's not toxic. The bag is also made of organic materials, which are easy to break down. However, we must clarify we have not done a physical test with a cow.
5) We are skeptical of how the bags break down in a dry environment. Please present.
In a very dry environment exposed to the elements, it may take up to 2 years to break down and be digested/mineralized by microorganisms. However, what matters is that in the end, no microplastic or harmful residue will be left.

6) How can we tell the difference between the EnviroBag and the Heavy Duty Green Bags? We don't want to bury the non-compostable one.
The compostable green bags are all clearly marked with a Compostable Seedling Logo (see below), an AS4736 Test certification / license number. and a Samplex® Envirobag logo which designates them as compostable. If they do not have this, they are a standard green bag.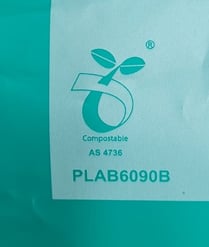 The seedling logo is an international certification and the symbol exists to clearly identify certified compostable degradable plastics. The seedling logo is a symbol that the product's claims of biodegradability and compostability as per Australian Standard 4736-2006 have been verified. For the end-user, the seedling logo will communicate the authenticity and independent verification of claims of compliance to AS 4736‐2006.
7) How long do they take to compost when buried?
The composting process is started by the moisture, microorganisms and insects in the soil.
In an ideal composting environment, these can completely compost within 4 weeks.
In a typical mining or exploration environment, these can start to break down in 6 weeks up to 18 months; it's subjective depending on the moisture and number of microorganisms present. Regardless, the bags are made from a natural product and certified as such, so it will not break down into tiny plastics or harm microbes and insects in the soil.
8) How long do they take to compost on surface?
Being a natural product, being used an a variety of environments, we've found the bags compost at varying rates dependent on the substrate they sit on, the contents of the bags and the prevailing weather conditions – moisture increasing the speed of compost.
For trials in Kalgoorlie, the bags were lasting 8 months, whereas for Alkane Resources, NSW they started composting in 6 weeks, as they were on topsoil/grass & they have a couple of rain events.
Choosing the Samplex Enviro Bag will save time, money and effort, as well as having a positive environmental impact.
9) What is it that starts the composting process?
The composting process involves four main components: organic matter, moisture, oxygen, and bacteria, the biggest factor of these being the moisture.
10) How much does a Samplex EnviroBag cost?
Currently, these are 2-3x the price of the Standard Green UV Bags, but as the economies of scale kick in and it becomes mainstream, we will see this drop in price. 450x750 and 600x900 are typically 3x the price; the smaller bags are around 2x.
11) Are they ethically sourced?

Yes, 100%. As part of getting the AS 4736 standards approval, these bags have to be ethically sourced to ensure the materials being sourced are obtained in a responsible and sustainable way, and that the workers involved in making them are safe and treated fairly.

Key Government Sources: Australian Packaging Covenant
Apollo Samplex® EnviroBags in action!