FAST, SECURE, STACKABLE, TRANSPORTABLE

If time is important to you from the field to the coreshed, the DYNA-STORE is the only Core Storage System which will ensure the safety and integrity of your core is fully maintained. Liftable and stackable, double lockable doors for security purposes and fully galvanised and enclosed with sheet steel. If you have ever thought or needed to move your core storage facility you'll know how hard it can be, this system is designed to make it a logistical ease.
DYNA-STORE Unique Benefits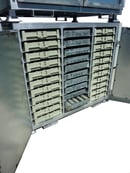 Holds Any Core Tray

DYNA-STORE is made to suit any type of Core Tray whether it by Metal, Plastic, Wooden or Wax Cardboard Core Boxes. Depending on the size of your core trays we can custom suit the DYNA-STORE to suit your exact sizes. The standard stocked DYNA-STORE will hold a typical core tray sold in today's market providing they fit within these specifications:
Max Length: 1075mm, Max Width: 400mm, Min Width: 370mm, Max Height: 90mm (NQ/HQ Rack), Max Height: 110mm (PQ Rack)



Fully Transportable
Never construct, de-construct or over handle again thanks to the unit arriving on site fully assembled. With forklift guides to the front and rear of the rack, you are able to relocate the DYNA-STORE whenever and wherever required.

HQ and NQ units store 33 Trays
PQ unit stores 27 Trays



Lifetime Warranty applies when Dyna-Store® Racks are used as intended, which is for storing of Core Trays, and warranties structural soundness for up to 25 years. Galvanising will greatly extend the life of the racks, but excludes racks rusting & corroding due to chemical reaction from sulphides, drill fluids or salt water which is beyond our control.