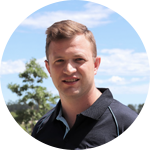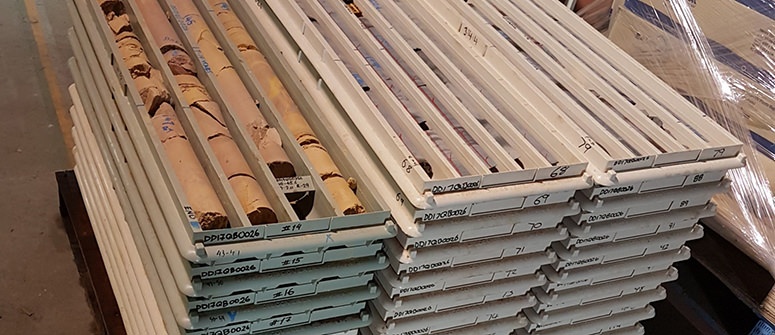 Despite best efforts, not all core samples are perfectly shaped to fit snuggly into regular core trays. Samples can crumble, or end up with an irregular shape, or are just plain larger than normal.
When these are placed in a core tray that is strictly sized, their size and shape means they cannot sit flush in the tray, putting the sample at risk of further damage.
Recognising this real-world need to cater for a certain degree of flexibility when it comes to the size of core samples, the best core trays include some extra depth. How does this translate to additional benefits for the geological and field team?
Stable Core Tray Stacks
When stacking core trays containing fragmented or protrusive core samples, there needs to be sufficient clearance between the core itself and the tray stacked on top.
By using trays that are designed with a slightly increased channel height, protrusive core will not interfere with the stacking capability of the trays. This in turn ensures the stacking stability of the loaded core trays, preventing the very expensive possibility of stack falling over. The extra clearance also helps prevent additional pressure on the fragmented core, reducing the risk of further damage.
What is the benefit of extra depth?
The Discoverer® Plastic Core Tray Series 3 Range are the only trays in the market with this extra depth, enabling the flexibility to adequately store core samples that are fragmented and would normally protrude.
Just recently, several of Australia's largest mining companies experienced issues where, due to the nature of the fragmented core they were drilling, when they came to stacking the core trays on top of one another, no stack was even or level, causing the entire stack to tip over onto the ground. They ended up losing or mixing up thousands of dollars' worth of core samples onto the floor.
This would be a geologist's worst nightmare, and cost the company serious resources in additional time, money and labour. The extra depth would give geologists peace of mind, knowing that whether they are stacking competent solid core or fragmented core, the trays will stay level and perfectly upright.
What should you do?
For those teams who are drilling in broken ground or have unusual core sample sizes, it's best to be safe than sorry. Using Discoverer® Series 3 Plastic Core Trays with the additional depth will avoid a potential stacking disaster and not require your team to go through a lot of effort excessively strapping and securing the trays to the pallet, which leads to extra cost, labour and packaging materials.
To order a free Discoverer® Plastic Core Tray sample or organise a quote, reach out to our team today on 1800 105 584 or customerservice@dynamicsgex.com.au. We will be happy to discuss your needs and help you choose the best products for your specific requirements.