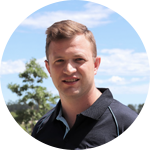 Plastic core trays are an essential tool in the mining and exploration industry when collecting core samples on a site. They keep valuable samples protected and secure during transportation, analysis and storage.
A geologist's goal is to spend as much time out in the field as possible, exploring for the next big discovery. It's essential to support this by using well-designed equipment that allows efficient field work.
So, what is so different about a flat bottom core tray design?
The Impact of a Flat Bottom
Most mine sites have a core shed set up containing either simple logging tables or roller racks fitted throughout. These tables and rackings allow easy handling and analysis of all the trays from a particular drill program. It's important to ensure the core tray is able to roll smoothly on these structures.
Traditional plastic core trays, as well as cheaper imitations, do not have a flat bottom design. The instability associated with the uneven base can cause a lot of issues during transportation. The tray ends up bouncing down the roller racks, disturbing the core samples.
The Discoverer® Plastic Core Tray Series 3 Range all feature a flat bottom design to allow smooth rolling over gravity roller racks and roller ball tables and to improve their stability during transportation, protecting the integrity of samples.
Why is this so important?
The cost to drill highly valuable core out of the ground can go up to thousands of dollars per metre, which is why geologists place the upmost importance in protecting the core samples and their integrity.
By accurately identifying the composition of each individual piece of core, geologists can pinpoint the underground location of the mineral seam the company is drilling for, whether it be gold, copper or another payload.
If, during the process of storing and transporting the core, the tray is allowed to bounce around, the core within the tray can be easily disturbed, causing damage to its geological structure. When the core is damaged or fragmented, as opposed to being a solid competent core, the measurement depth of where the seams of minerals are running below the ground can become inaccurate.
What should you do?
To protect the integrity of your valuable core samples, especially if your sites feature roller racks, it's essential to update your older core trays to the newest design with the flat bottom feature, the Discoverer Series 3. Don't risk your critical core samples on account of a cheaper core tray, as no one wants to go through the geo's nightmare, retrograde step of re-drilling old ground because the core tray hasn't done its job!
To order a free Discoverer® Plastic Core Tray sample or organise a quote, reach out to our team today on 1800 105 584 or customerservice@dynamicsgex.com.au. We will be happy to discuss your needs and help you choose the best products for your specific requirements.