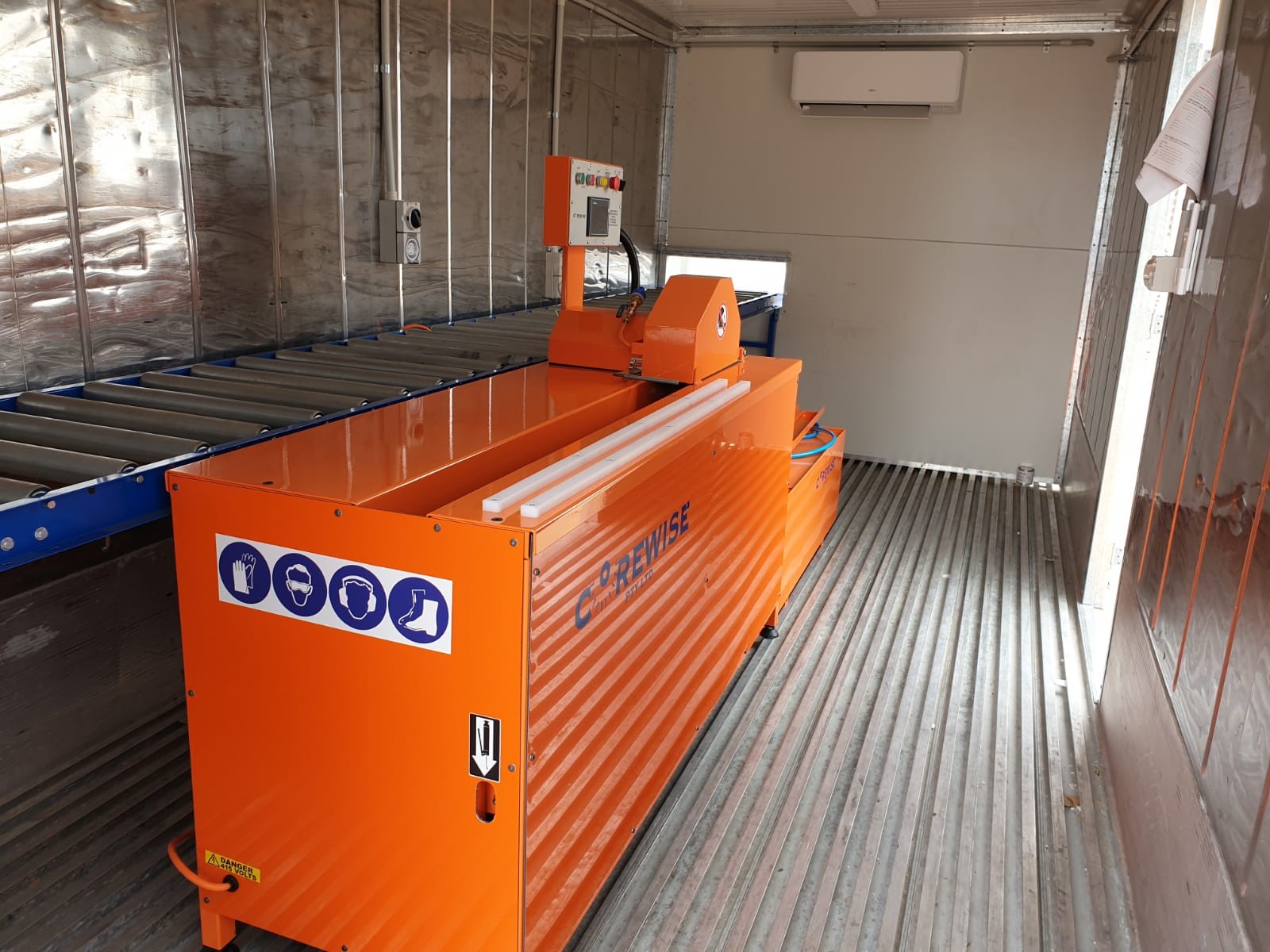 Unbiased Comparison Between Almonte v Corewise Saws
At a Glance
Which is best for you?
The invention of the Automatic Core Saw was created by Frank Frisina in Perth, 1995.
Frank built his first auto core saw and branded it Almonte - a combination of his two children, Al & Montana.
Sales were good, all over the world.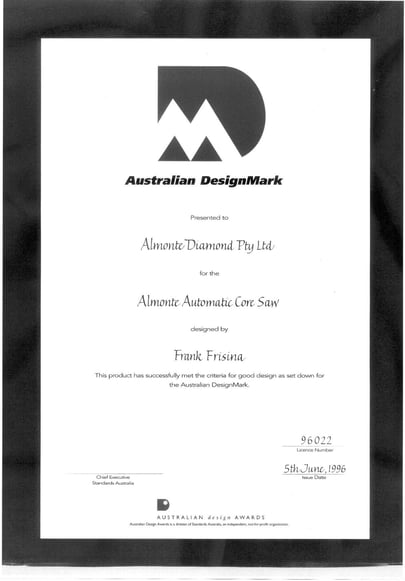 Differences Between Almonte & Corewise
Either way you look at it, the Almonte Core Saw was and still is, a highly successful saw.
Whatever Frank set his hand to he made sure was good.
So fundamentally, the shape & size of the Core Saw never changed when Corewise was created.
However, Frank did listen to Core Saw Operators feedback and acted on their needs.
The major improvements were the core saw control panel, the feed chain and the ease of maintenance.


Core Saw Control Panel
The first improvement that was made was the ability to adjust the speed of the feed chain & motor from the inbuilt LCD screen.
This can be changed immediately by unqualified personnel and without calling an qualified electrician.
When cutting different hardness of rock the Corewise LCD screen will advise the operator on correct feed speed for various hardness of core.
Also in conjunction with Mt Isa Mines, they advised they were forever breaking the $58 push buttons, which are situated smack in the high activity area on the saw
Loaded core trays, core boats, operators legs and core inevitable get dropped or ran into them.
Yep, running into this angular box with your thigh is similar experience to running into a towbar with your shin, been there done that!
When a single button is damaged, or you've punched it out of frustration because it's given you a dead leg for the 3rd time today, this small cost problem renders the entire saw inoperable for a few days.
From Frank's service records, buttons were in the Top 3 replacement parts.
Corewise has eliminated button breakages caused in this manner.
One thing that's good to be aware of, is that Westernex & Almonte are putting the below on their quotations.


The reason Almonte are led to believe theirs is the only conforming saw can be found in their recently published article.

Unfortunately this is a misguidance and Corewise complies to Section 57.
You are able to see from the above video there is no leaning over the moving parts.
Another reason that Corewise moved the buttons is due to the below section of the Code of Practice.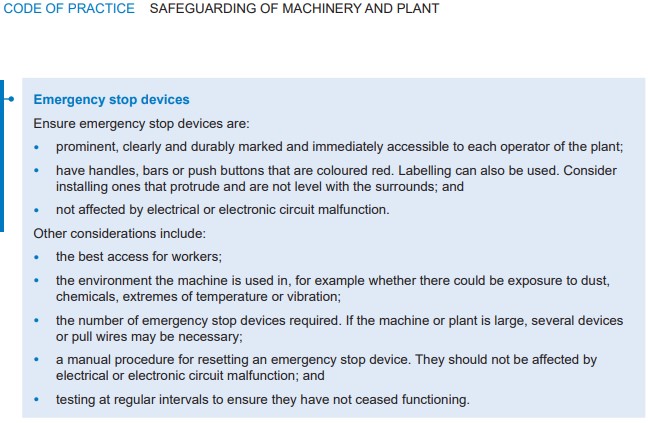 This refers to the Emergency Stop button and exposure to dust.
Less dust settles on the buttons when the buttons are closer to eye height, meaning the Emergency stop won't get ingrained with dust and not work when needed.
However, both machines are perfectly safe to use, and you shouldn't need to worry, unless either of the above points are a particular concern for you.
Hundreds of these machines are in use all over the world.
We believe in you having all the information to make the choice that's right for you.


Feed Chain System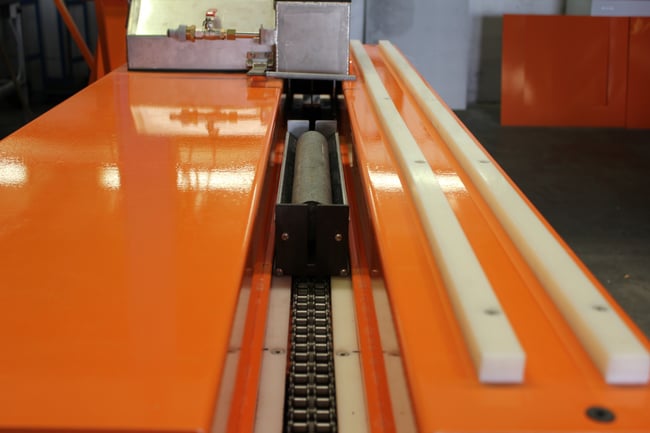 Again, from feedback gathered up from Core Saw operators they reported the feed chain worked just fine, but with some fine tuning could be even better.
The Almonte saw functions with a 'pusher' style feed chain.
The pushers are evenly spaced along the chain and they push the Core Boats through the blade.
The purpose of using a Auto Saw was to enhance efficiency.
Operators were finding that if you missed the pusher on the way past, you had to wait for the next one of come around.
Corewise solved this by implemented a continuous chain in which the 'teeth' on the core boat locked into.
This meant the core boat could be placed anywhere on the chain, safely and with ease.
View this page to see Core Boats Options


Finally operators reported that jams were another lost time frustration, let's check how Frank solved this on Corewise saws with the Anti-Jam feature.
Ease of Maintenance
Downtime on mine sites can be a massive drain.
Frank saw the need for trained users on site to perform their own maintenance program easily.
He started with the external grease points.
You now don't have to open the entire core saw paneling to grease the bearings, which because it's not easy, doesn't often happen.
Also the chain drive is much like changing a bicycle chain.
You no longer have to ship the entire saw back to the manufacturer, a qualified person on site can easily perform this.
Finally, the blade cover is manufactured from Stainless Steel instead of the old method of using HD Steel and powder coating it.
You can use a magnet to test what yours is, as sooner or later Almonte are likely to upgrade, but until recently it's still HD Steel.
The reason for this was due to the continuously wet environment the saw was used in, the Corewise saw now wouldn't rust out.
So do these upgrades add cost to the Corewise v Almonte?
Almonte v Corewise Price Comparison
The Corewise retails at $24,500+GST.
The Almonte we've seen fluctuate in price and ranges from this starting price to $30,000+GST from customer reports
Seems like a conundrum right?
There's one reason why Frank is able to manufacture & supply the Core saw more cost effectively than Almonte.
He personally builds the core saw in his Perth manufacturing plant.
For him it's less about a commercial operation and more about a passion to see his invention shipped the world over.
In comparison Almonte is owned by Westernex, which has 25+ plus staff and larger overhead operating expenses.
Automatic Core Saw Warranty
Both manufacturer websites state they offer a 12 month warranty.
Both only apply to the motor and gearbox components under normal operating conditions.
Difference is, with the Almonte, you are not granted the flexibility of using the Core Blades or Core Boats of your choice.
Even if you know your preferred Blades or Boats perform better through fair trial and error, Almonte still state "this will void warranty".
Something to think of upfront.
If you have a current Almonte Core Saw and it's older than 12 months, we are unsure if this is still relevant, as warranty no longer covers you regardless.
You may then have flexibility of choice?


Corewise, in comparison, states they offer an unconditional 12 month warranty.
We understand they view a diamond core blade and core boat as a universal component, in which the operator should be allowed personal preference.
The warranty on the Coresaw is not voided through using your blade and boat of preference.
You can also trial the Corewise for 30 days.
If you are not 100% happy with the performance you can return the machine with no further obligations.
It's Zero Risk to you.

Conclusion
We trust this helps in your buying decision process.
At Dynamics we have no ownership in either Almonte or Corewise brands and believe they both deserve respect.
In our opinion it seems you get greater 'bang-for-buck' with Corewise, but overall you will get many cutting hours out of either machine.
In Australia, at the current time, Almonte exclusively distribute their core saw through Westernex, and don't offer anyone else this distribution.
However, you can purchase the Corewise saw directly through Frank, or the team here at Dynamics can supply you.
The cost is $24,500+GST either way, and we are happy to support your entire drill program of geological consumables on the same order.
Whereas Corewise specialises predominately in the manufacture of Automatic Core saws only.
For further specifications on Corewise Auto Saws, Click Here.
May 2020 Update: Almonte Westernex Response
We are pleased to announce the this article received a response from Almonte Westernex Team.
As always, our object is not to force you into using one or the other, it's about giving you the most unbiased info in the industry.
Their response will help this effort for you to form your own decision.
Download Almonte Response Here


If you're looking for an official quotation on the Corewise Auto Core Saws simply request pricing by clicking on the button below.
Note: Once you arrive at the page, scroll to the bottom and select the option you require, as shown in the red highlighted example.
Our Customer Happiness team typically respond within 6 business hours.


You may also be interested in the Fully Air-conditioned & Insulated Core Cutting Containers.
We have these located for hire onsite in Mt Isa and for dry hire where the unit can be transported out to your mine site in Kalgoorlie.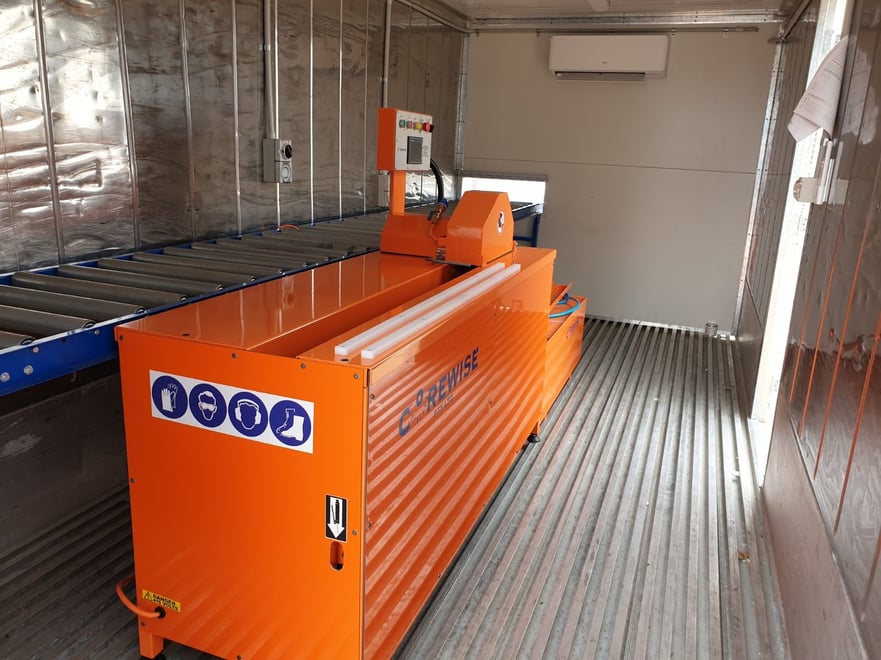 Have any more questions about Automatic Core Saws?
Leave them for us in the comments and we will answer them as soon as possible!