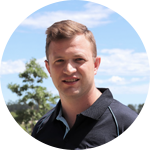 Spencer Dormer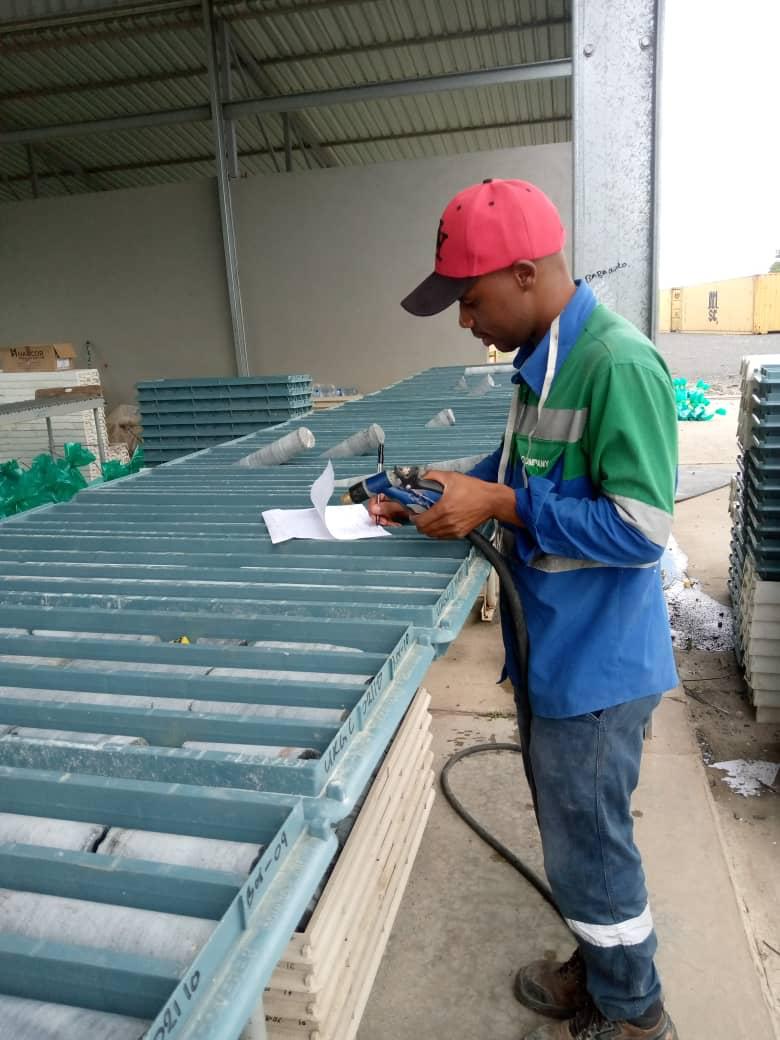 The journey started a long time ago really...
...but September 2020 was the start of a revolution that would change the face of how mining & exploration is conducted.
For too long, to the outside world, mining had a dirty name and image.
Everyone was asking, how can we change this?
Dynamics had to acknowledge the company had been part of the problem, so decided to make amends and be part of the solution!
That's when we introduced the Discoverer Recycled Plastic Core Tray.
A few years on and that trend is picking up pace faster than ever, as Geology & Environmental Teams at Mining & Exploration Sites try to understand what to focus on for the biggest ESG impact.
The more you can do that makes a tangible impact in the minds of stakeholders and shareholders, the better, right?
At Dynamics, the team has a saying: Less talk, more action.
So let's get to the action that's been happening here in the real world.
Northern Star Increases Key KPI by 3.8x!
A key number that Northern Star Resources, Australia's second largest gold producer, is focused on is recycling co-mingled paper, cardboard, plastic & aluminium.
This snapshot is from NSR 2021 Sustainability Report published in Feb 2022.
They've been using the Discoverer Recycled Plastic Core Trays at Carosue Dam Mine since September 2020, and that's resulted in 96.2 tonnes of kerbside plastic being saved from landfill in CY2021!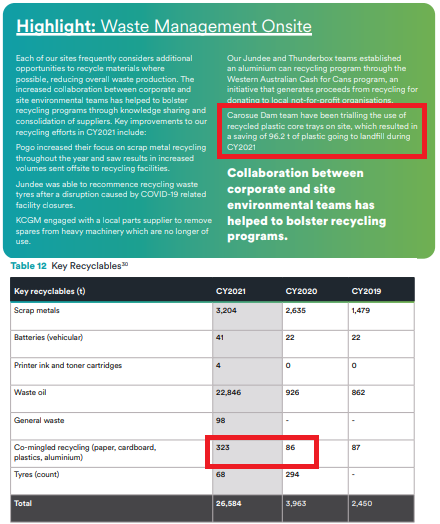 As you can see, from the above table, NSR has been increasing their co-mingled recycling on site by 3.8x from CY2020 to CY2021.
Since this report has been published NSR (Australia's biggest Core Tray user) have increased their usage to 2 mine sites, totaling 225t, this is on top of the 323t they reported on in CY2021.
Therefore 225t worth of plastic recycling used in the manufacture of Discoverer Recycled Plastic Core Trays, can be directly attributed to their core tray usage.
The key benefit for the Geo Team is that even though this number has a massive impact, it requires zero effort from them to gain 100% of the result.
How come?
The reason being, each year NSR operates they use thousands of Core Trays, to switch to Recycled didn't increase their cost or change anything operationally.
It's the most simple ESG win, as Dynamics takes care of all the hard work.
No extra recycle bins on site, no regular team education sessions, no extra cost; just a switch in product from a Virgin Plastic Core Tray to Recycled Plastic.
If the NSR recycled core tray roll out continues to prove successful and they transition across all their sites, they'll have the ability to save over 900t of recycled plastic through core trays alone.
What impact could you have in your next Sustainability Report?
St Barbara CEO Brilliance Award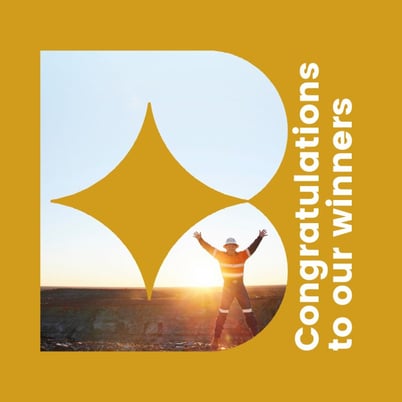 The next highlight comes from St Barbara Limited.
St Barbara is an Australian based, ASX 200 company with gold mining operations in Australia, Canada and Papua New Guinea.
They have a vision to be a brilliant, global mining company that grows sustainably and creates enduring, positive impacts.
Amongst their Core Values & Commitments is a strong focus on 'Respecting the Environment'.
They've come up with an innovative approach to recognising their team with the highly regarded CEO Brilliance Award.
In 2022 they recognised Ian Snell for being the instigator for swapping out their virgin core trays for Discoverer Recycled Plastic Core Trays.
What a brilliant way to drive this innovative thinking on-site.
What could your operations do that might use this concept of recognising 'respecting the environment' behavior?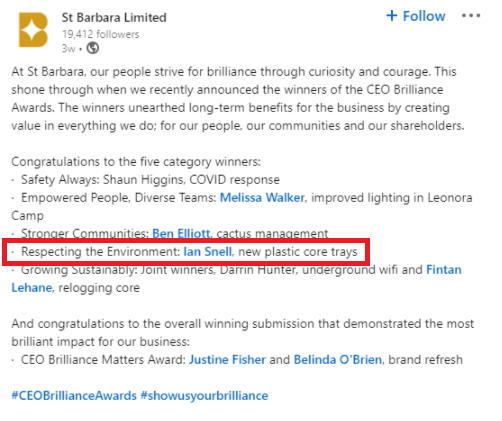 View the Full Media Release Here
The Certificate of Recognition
All great leaders realise that good work recognised gets repeated.
The Certificates that each site gets when they adopt the Discoverer Recycled Plastic Core Trays have proven to be massively popular.
Dynamics' goal is to have a certificate proudly hanging on the Geology and/or Environmental departments' office wall of every mine site in Australia.
That's real tangible impact and aligns with our Mission: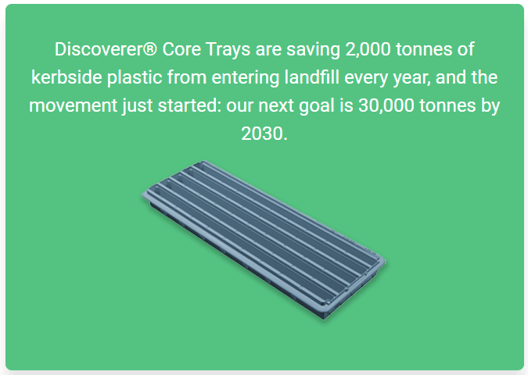 Whether you decide to add this environmental win to your next Sustainability Report or internal company recognition system, Dynamics guarantees this certificate of recognition regardless.
The company wants to always promote the great work by Miners & Explorers.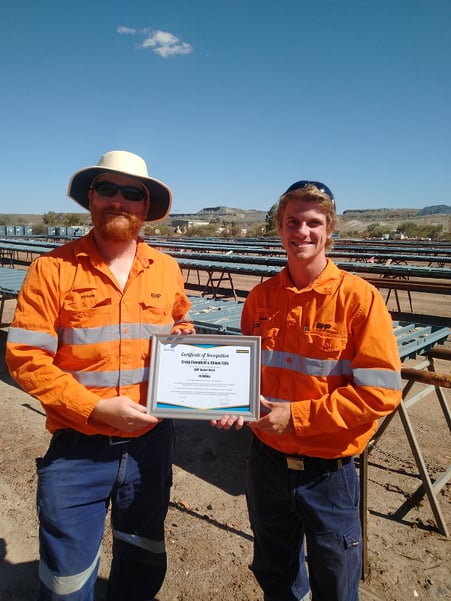 Grinners are winners - Craig & Shaun at BHP making a large positive ESG impact at Nickel West, saving over 30t of plastic going to landfill or our oceans each year!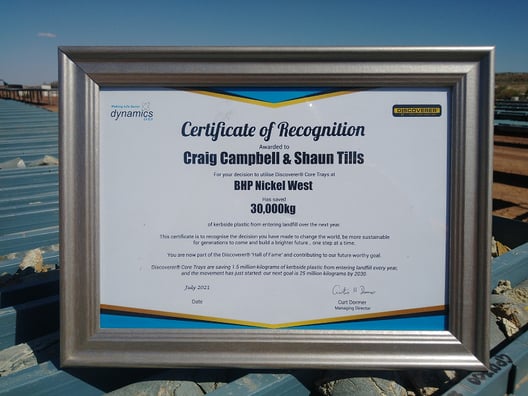 The Sustainable Mining & Exploration Hall of Fame
As an enduring legacy, Dynamics also has created a Hall of Fame in each of their offices around Australia.
The Kalgoorlie office (below) gives a nod to the current contributors to the worthy cause; next time you are in the area go and check it out.
Maybe someday your name will be up here too?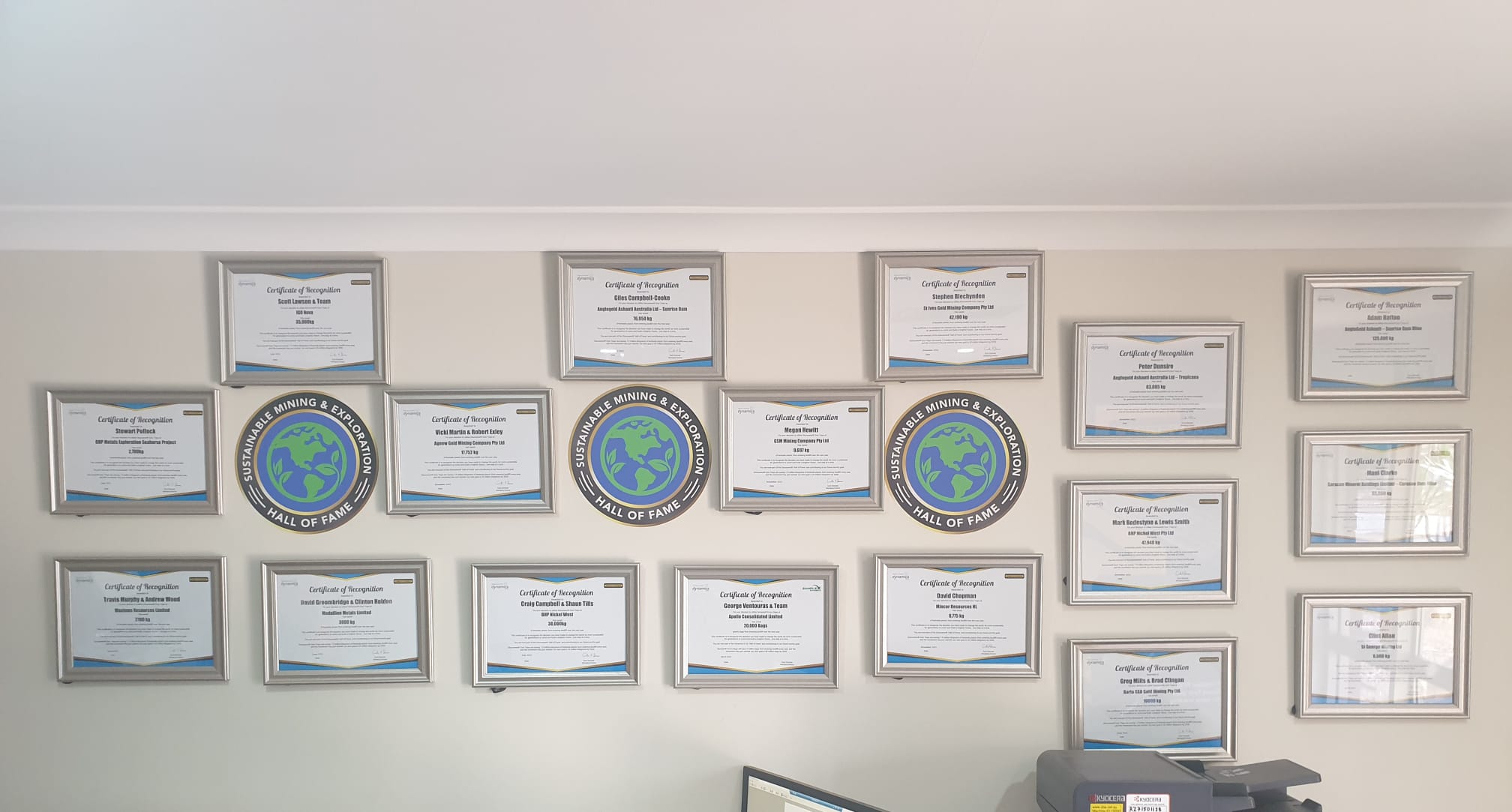 Recycled Core Trays Around the World
Since 1993, Discoverer has been pioneering Plastic Core Tray technology.
The company believes excuses are for the competition while Dynamics does it.
Whether you are in remote Africa or Sub Zero Alaska or Asia, the Discoverer Core Tray has been used there in drill programs over its history of Excellence since 1993.
However the question we are most often asked is, does a Recycled Plastic Core Tray last as long as a Virgin Plastic Core Tray?
Tried. Tested. Proven.
When Discoverer® made the switch to manufacturing the Core Trays from repurposed Australian Kerbside Recycling, Dynamics needed assurance that this product would last just as long as our original Virgin Plastic Tray that has been proven in the elements since 1993.
Following a robust QC Testing Process, by Australia's pre-eminent NATA & ISO Accredited Plastics Lab ExcelPlas, Discoverer® is the only Core Tray on the global market that has undergone this rigorous independent testing.
By using Discoverer®, you're looking after the Earth while drilling the Earth.
Absolute Peace of Mind Guaranteed.
Dynamics invites you to join this movement towards a more sustainable mining and exploration future.
Come on the trek.