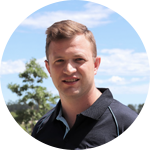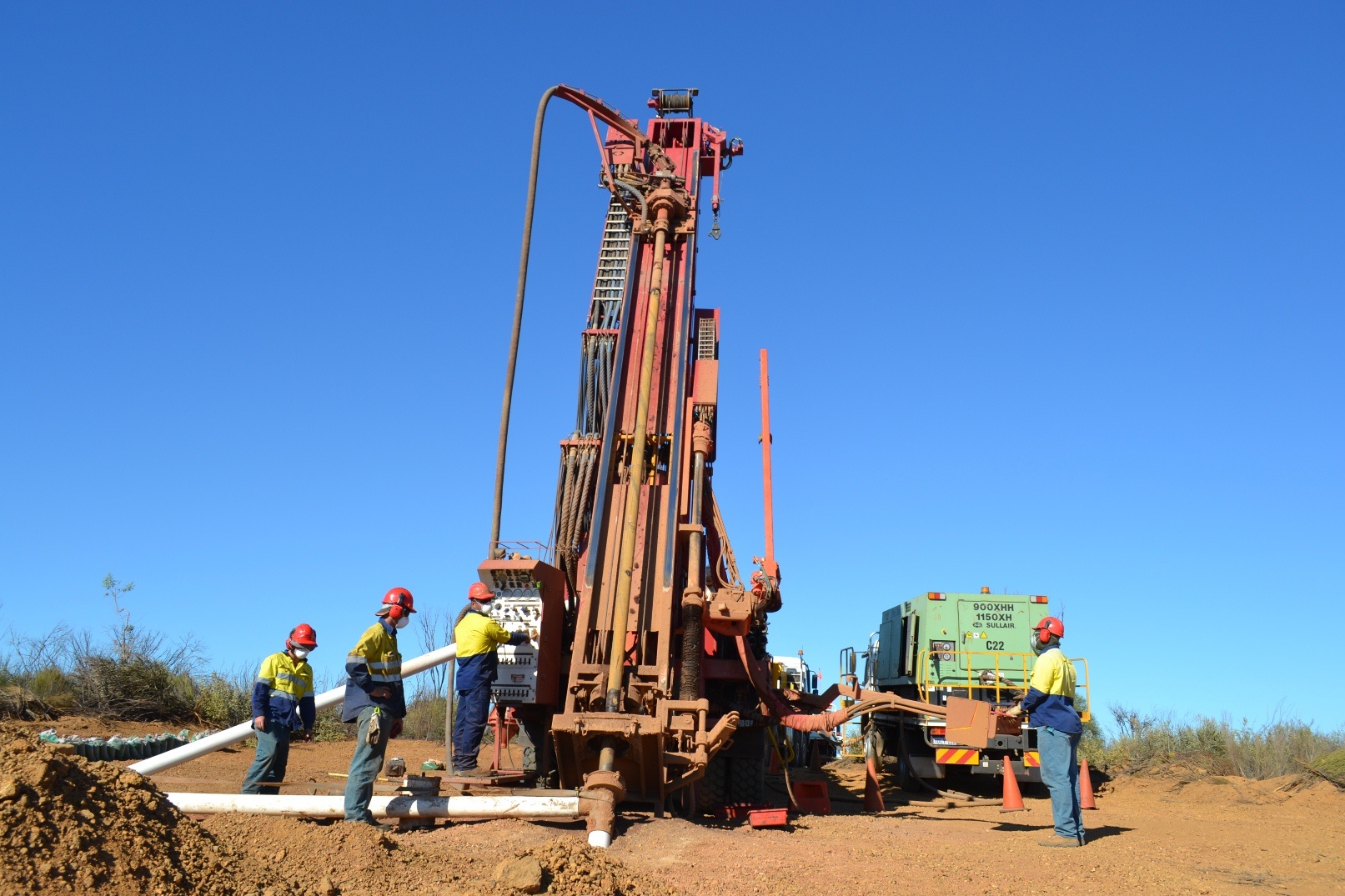 Got an RC drill program coming up?
As you know, part of securing your exploration license with the resource regulator is the requirement to have a plan for your drill waste.
At times, plastic RC bags present the biggest pain in the neck!
Not a lot else you can do apart from take them to the tip, right?
What if a plastic sample bag could be created that would compost to

nothing

when buried?
We want to see a plastic sample bag that miners can dispose of in the waste rock dumps, as that is already a facility you have on site.
Hang on, I'm an explorer without a waste rock dump...
Well, we are proposing you place them into the sump and back fill over the top.
Either way, a simple solution using existing facilities/holes in the ground/waste dumps on site is needed.
One thing we know for sure is you don't want to dig up a heap of plastic bags two years into the development of the mine pit.
That being the case, we are actively working on our Samplex™ EnviroBags.
We can assure you that within weeks or a few months, dependent on the activeness of the micro organisms present in the soil, you will find no plastic below the surface.
Zilch.
Zero.
Nothing.
We want you to completely rest easy.
Now we want this practice to get the tick from the resource regulator and the Environmental Protection Agency (EPA) because the environmental outcome is good... and that's happening as we speak.
As they compost it'll put goodness back in the ground and it's not going to impact critters in the soil or groundwater.
Ok, this seems good, what's my local EPA going to say?
What the Environmental Agencies Think Right Now
Whenever there is a drill program it's a fair bit of work in the back end for your local EPA deciding where your drill waste can go, who can take it, who can manage it and ensuring the bag doesn't become a problem.
So what we now see is that the EPA is starting to push back.
They are asking:
How many bags are you going to have?

Where are you going to put them?
And from a recent collaboration, we found out that NSW EPA has a big problem!
Council is telling them their quota is 5,000 tonnes for the year.
What happens?
The first greenfields or brownfields exploration program comes in and drops 4,500 tonnes of it!
EPA goes, 'Oh damn'.
You've pretty much helped them fill their quota single-handedly and they have a massive headache.
Those guys are humans too.
If you can find a way to work with them and make their life easier, they'll find better ways to work with you and you'll enjoy:
Faster approvals

Smoother drill programs

Great relationships
The NSW EPA team is now pushing back and will make you go to the council and get commitment from the council that they will take that waste, so it doesn't sit there for 5-6 years.
There have been cases where EPA issued clean-up notices because the farmers are going ballistic due the explorer not having approvals in place to dispose of the bags.
Caught between a rock and a hard place!
Or caught with rocks in plastic bags!


So is there a solution?
Good news, the future is very bright on this front.
In collaboration with the EPA and resource regulators, we have been conducting live trials on sites across Australia this year.
It's a plastic sample bag that has all the good properties you need, plus it'll compost when buried.
June 2021 Update: In field testing with Alkane Resources, with the bags containing organic matter, sitting on grass/topsoil and with a couple of rain events the bags were breaking down in 6 weeks above ground.
So as long as you've done all you need to with the sample in this period, we very pleased to say they are acting just as they should be, and rehab of the bags will simply mean pushing them into your sump with a front loader.
It's good to be aware that varying rates of composting can occur, and is sped up in ideal conditions such as presented themselves at Alkane sites.
In Kalgoorlie, for example, they typically won't start to compost above the ground if conditions are dry, and not much topsoil present. Moisture being the biggest factor is the break down process.
Once buried with the relevant biomass, moisture and microorganisms surrounding the bags they'll completely disappear, within months.
Below image illustrates Alkanes site conditions.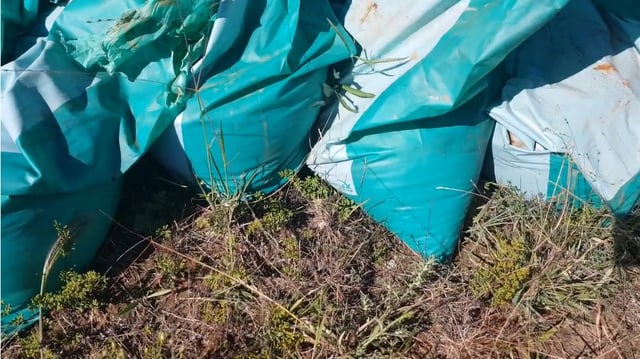 What's next?
Well, here's the vision for plastic bag waste in the near future:
You never have to take your bags to tip again, eliminating waste removal fees and travel time.
We've had one case study where the mine traveled 80kms to the closest tip to dispose of their waste!
Time is money.
What we are trying to do is dispose of them in the overburden/waste rock emplacements, since this is already a facility you have on site.
What if explorers could bury your bags AND get a tick from the resource regulator and the EPA because the environmental outcome is good?
As they compost, it'll put goodness back in the ground and it's not going to impact critters in the soil or groundwater.
Even if you did continue to take it to landfill, it'll help waste break down.
Win-win.
What we do know is that micro plastics blowing around the outback like confetti are not acceptable from an environmental or pastoralist point of view.
What's your environmental outcome and initiative?
Whatever state/territory you are in, the EPA will welcome this initiative because it's far superior to the current situation.


Stage 2 being worked through now is:
How do they react when buried?
Field trials will continue, and we are shipping in bulk stocks, so if you are interested in being an early adopter, please feel free to get in touch.
The question is not - will they compost?
It's, how long will they take to compost?
The bags we are producing have already gone through rigorous testing and got the compostable certification to Australian Standards.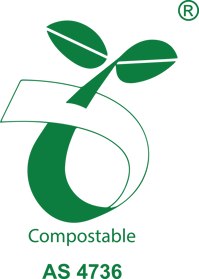 Having this logo guarantees the bag will compost. It's your final and complete peace of mind.
If you don't see this logo, you are adopting an uncertified and unapproved practice.
Easy way to tell.
We are willing to bet that due to the availability and outcomes of this product, if standard 'non-compostable' bags aren't banned within the next 12-24 months, we'll be very surprised.
A massive industry shift is happening right before our eyes, most likely forever.